Irwin Jacobs
Co-founder and Board Member, Qualcomm Inc.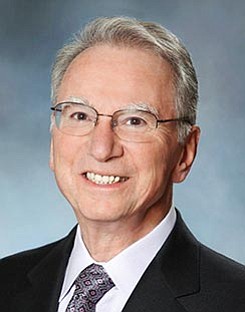 Trustee Emeritus Profile

Irwin Jacobs is the co-founder and chairman of QUALCOMM Incorporated, a San Diego-based Fortune 500 company known for its innovative cellular phone technology and as the largest supplier of semiconductors to wireless phone manufacturers. He was an Assistant/Associate Professor of Electrical Engineering at MIT, and was a founding faculty member of UC San Diego as Professor of Computer Science and Engineering. He has received numerous awards, including the National Medal of Technology from the President, for his achievements in the corporate world as well as for his leadership in the San Diego community. He serves as Chairman of the National Academy of Engineering and the Salk Institute for Biological Studies.

Irwin Jacobs served as a Trustee of the Foundation Board for 12 years, from 2000 to 2012, and was elected as a Trustee Emeritus in 2018. He is an Honorary Chair of the Campaign for UC San Diego, and serves on the Health Board of Advisors and the Jacobs School of Engineering Dean's Council of Advisors. Irwin and his wife, Joan Jacobs, were recognized in 2020 with the inagural Lifetime Legacy Award for their committment to UC San Diego and the community. 

He received a B.E.E. degree from Cornell University, and a M.S. and Sc.D. in Electrical Engineering from the Massachusetts Institute of Technology.