Julia Brown, H '14
Philanthropist and Community Leader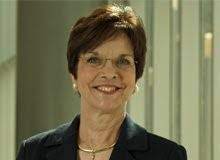 Chair Emerita Profile

Julia Brown is a board member and immediate past chair of Corporate Directors Forum, a southern California organization dedicated to high standards of corporate governance, and a board member of Cleantech San Diego. She has held senior executive positions with Dura Pharmaceuticals, Inc. and Amylin, Inc. She spent over 25 years with Eli Llly and Company in progressively more senior roles. Actively engaged in the San Diego community, she is a member of the National Advisory Board of the Union of Concerned Scientists, and the boards of the San Diego Symphony Orchestra and Girl Scouts San Diego. 

First elected to the Board of Trustees in 2001, Julia currently serves on the Donor Relations and Stewardship Committee. A staunch advocate of student support, she established an endowed fund for undergraduate scholarship funds. She also serves on the Undergraduate Scholarship Council, the Rady School Dean's Advisory Council, the UC San Diego Health System Advisory board, the Dean's Leadership Council for the Division of Biological Sciences, and the Director's Council for Scripps Institution of Oceanography. 

Julia received her bachelor's degree from Louisiana Tech University.