Peggy Preuss
Vice President, The Preuss Family Foundation Inc.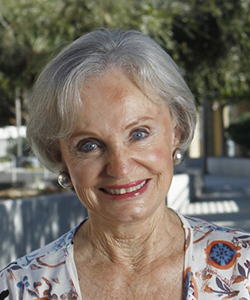 Trustee Emeritus Profile

Peggy Preuss served as a Trustee of the Foundation Board for 12 years, and was Vice Chair of the Foundation from 1997 to 2005. She has served on the Campaign Steering Committee for the Campaign for UCSD, as well as the Humanities Advisory Board, Preuss School Board of Directors, and Preuss School Founders' Circle.

She received her bachelor's degree from Cal State Los Angeles, and holds a master's in humanistic education from United States International University.