Scott Wolfe
Counsel, Latham & Watkins LLP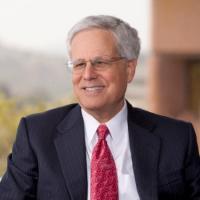 Trustee Pofile

Scott is of counsel with Lathan & Watkins LLP, having been a partner for 40 years and Partner-in-Charge of their North County San Diego office. He advised startup and emerging businesses and public companies in the life sciences and high technology industries. He is a trustee and former Chairman of the Board of Rady's Children's Hospital and a former owner of the San Diego Padres. 

He was elected to the Board of Trustees in 2020, and serves on the Audit Committee. He formerly served as a member of the Dean's Advisory Council for the Rady School of Management, where he and his family have established the Wolfe Family Presidential Endowed Chair in Life Sciences Innovation and Entrepreneurship. 

Scott received his bachelor's degree from Harvard University, where he went on to receive his Juris Doctorate and MBA.