William Jones
President, CEO and Director, CityLink LLC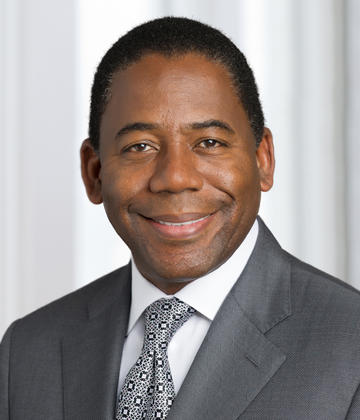 Trustee Profile

William Jones is Managing Member of CityLink LLC, an investment and consulting firm. He is the former President/CEO of CityLink Investment Corporation, a commercial real estate company he formed in 1994 that earned national acclaim for developing complex private and public urban projects. He served as President/CEO of City Scene Management Company from 2001 through 2018. Prior to that, Mr. Jones served as Investment Manager of certain Prudential real estate subsidiaries and as General Manager/Senior Asset Manager overseeing more than 2 million square feet of office, retail, industrial and multi-family properties in three states. Earlier in his career, he served in San Diego city government as a City Council Member, Deputy Mayor and Chief of Staff to City Council Member Leon Williams.

 

Mr. Jones is an independent director and board chair of certain funds managed by the Capital Group with net assets of approximately $600 billion and former chairman of the Audit and Nominating/Governance committees. Mr. Jones is a director of Biogen (NASDAQ: BIIB), a global biotechnology company and pioneer in neuroscience and chairs its Compensation and Management Development Committee. Mr. Jones is an independent director of Global Infrastructure Solutions Inc., a private global engineering and construction services company and chairs its Compensation and Organization Committee and is its Lead Valuation Director. He is a trustee of the UC San Diego Foundation Board and a member of its Investment Committee and Real Estate Advisory Council. 

 

Mr. Jones earned his M.B.A. from Harvard Business School and a B.A. in Economics from the University of San Diego.